Its October! Whoo Hoo!! This is one busy blogging month indeed!
Have you had a chance to check out
Samhain's Sirens
yet? No? Well you should head over there right now! Go! I'll wait...
AWESOME right? I can't wait! Its going to be an absolute blast! Giveaways, blogs, crafts and recipes OH MY! Going to be some really GREAT fun! Be sure to check out their
facebook page
too!
Theres also the
NaBloWriMo
Challenge this month too! What's that you ask? Its National Blog Writing Month. It challenges you to post one post each day for the entire month of October. That's 31 posts in 31 days! Think you're up for it? Head on over and sign up!
We also have some really great blog parties and hops this month too!
We've got
All Hallow's Grim - The Darker Side of Faerie Blog Party 2012
hosted Magaly over at
Pagan Culture
!
There's also the
Real Witches of Halloween 2012 Blog Event
as well! It's hosted by
Wise Whispers @ Witch Blog
. There's guest blogging oppurtunities, a blog tour, giveaways and interviews! Its sure to be a bunch of fun too!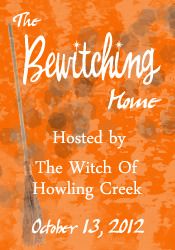 The Witch of Howling Creek is hosting
The Bewitching Home Blog Party
. There's already a great list of blogs participating and sharing their domesticaly related blog posts!
If you have a blogging event you'd like to share, please- by all means, leave a comment below!
Okay... now for the required monthly bits:
Check out the menu bar for blog entry categories.
Click on the 'About' tab to read a little more on how the hop works and descriptions of our categories.
Also please checkout the 'Guidelines' tab to review posting and "Brilliant Blogger" guidelines.
Remember to always use post specific links when linking up. The only time you should link up a general link to your blog is in the 'New to PPBH' category.
Also, when leaving a comment on other blogs you've found here, please take a minute and let them know you found them at the Pagan Pages Blog Hop!
I'll have the Brilliant Blogger updated shortly, and if you are at all interested in guest posting for the month of November please send me and email using the link to the right!
Brilliant Blogger Award Winner For May:
Author: Dusken


Tell us a little bit about yourself. -
What drove you to starting your own blog? -
What is it that you like to blog most about? -
Your thoughts on PPBH? -
Anything else you'd like to add? -